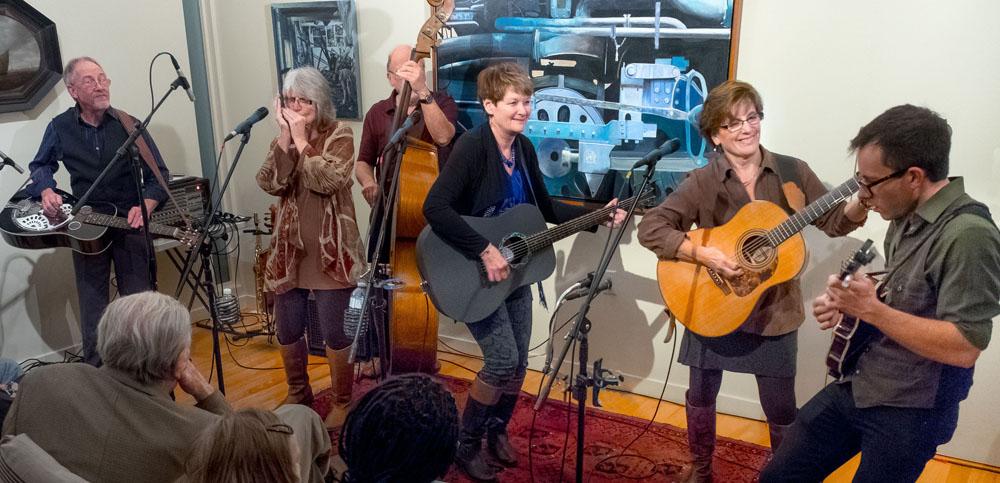 "The Hot Flashes" are coming to the Marlborough Arts Center on Friday, November 19, the 3rd Friday of the month, at 7:30 p.m. Beyond their provocative name, they are an exciting and eclectic group fronted by three female vocalists who have made a name for themselves on the New England music scene showcasting their tight vocal harmonies and jazzy acoustic stylings. The Flashes are Amy Gallatin, who with her expressive soulful singing has made a name for herself in North America and overseas, award-winning singer-songwriter-guitarist Gail Wade who is well-known in the Arts Center's music events, and multi-instrumentalist Peggy Harvey, founding member of the legendary bluegrass group Traver Hollow.
Backed by the solid chops of mandolinist JD Williams, Dobro veteran Roger Williams, both from Gallatin's band Stillwaters, and bassist John Urbanik, the instrumentalization also includes the occasional clawhammer banjo. As a group these six veteran musicians meld their collective experiences, voices and instruments into an unique and rousing musical experience as the three women fuse their distinct voices into one soaring, harmonious musical element
The Marlborough Arts Center is at 231 North Main Street. Doors open at 7 p.m. with the show beginning at 7:30. Admission at the door is $15 per person. All are welcome but for this performance masks and a proof of vaccination are required. Chairs will be set up for social distancing. There will be no food or drink. The Arts Center is fully accessible and there is ample parking.