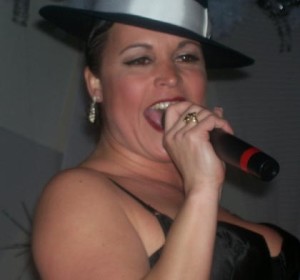 Ashly Cruz is coming back to Marlborough! The Marlborough Arts Center, at 231 North Main Street in Marlborough, CT., is pleased to announce that Ashly Cruz is performing her noted International Cabaret Show as a Benefit Concert in support of the ART PARK project on Friday, May 8, 2015 at 7:30 p.m. Ashly will be singing songs in French, Spanish, and Italian, plus Broadway tunes, Jazz favorites from her "Ella" shows, and, of course, her ever popular Rock and Roll. Her inimitable style and personality make her shows events to remember and this is a show you do not want to miss.
Ashly Cruz is a Connecticut native who began her musical career as a dancer in the Hartford Ballet Company, later becoming a founding member and choreographer of the Hartford Contemporary Dance Theater. She earned a Bachelor of Fine Arts Degree from Carnegie Mellon University in the prestigious Musical Theater Drama Department. Before graduating she landed a small part in the CBS Movie of the Week, "No Place Like Home" starring Jeff Daniels. Her love of song, dance, and theater led to starring roles in television and at regional theatres across the country, including the Hartford Stage Company, Pittsburg Playhouse, and Ocean West Theater Company in Los Angeles where she formed, and became the lead singer for, the rock band "Taboo You" which headlined at The Roxy and The Whiskey on Hollywood's Sunset Strip. After the break-up of the band, she went on to Nashville, where she put together a special French/American Cabaret show which drew great crowds.
Now back in her home state, Ashly has headlined at BB King's Dance Club at Foxwoods Casino, as well as bringing her wide variety of song and dance to La Vie En Rose Bistro in New London. Never still for long, she released her first single and video titled "My Tango Baby", as well as developing the unique "Cardio Latino" which is a fun and effective fitness routine that has become a craze in Connecticut for the last three years. At the urging of fans, and looking for the excitement and creativity of her days in California as a real rocker, she has led the development of one of Connecticut's hottest rock bands: Cruz Machine. She is a multi-talented performer and just being in the audience means having fun and an exciting evening.
Concert begins at 7:30 p.m. Admission is $15/individual. Doors open at 7:00 p.m. so come early to visit the Gift Shop, relax, and settle down for great entertainment. BYOWine. Other refreshments are available. There will also be an opportunity for those who attend and would like to contribute, beyond the admission fee, to the Marlborough Arts Center's ART PARK project, which is to buy and preserve the adjoining parcel of undeveloped land, one of the last in the area, and to create an ART PARK with sculpture garden and walking paths, and a labyrinth for quiet reflection, within this natural setting for artists and art lovers alike.
The Marlborough Arts Center is a non-profit regional center for the fine arts, performing arts, and fine crafts, and completely organized by volunteers. The building and grounds are fully accessible. Visit the website www.marlborougharts.org or call (860) 295-9389 for details about membership, as well as the myriad exhibitions, shows, classes and artistic possibilities open to the public.